How to effectively clean and impregnate paving stones?
2023-02-13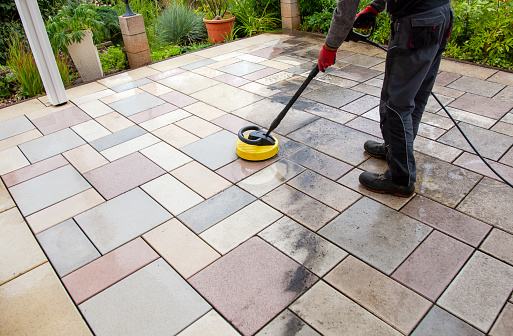 Taking care of paving stones can significantly extend its life.
Impregnation effectively protects the pavement structure against harmful factors such as: moisture, frost or sun.
How to effectively clean paving stones?
Paving stones are commonly used both inside and outside buildings. It gives each garden or terrace design a unique character. However, keeping paving stones clean can be difficult due to their sensitivity to cleaning agents and dirt removal. That is why it is important to know how to effectively clean paving stones without damaging their structure.
Simple ways to keep paving stones clean:
Cleaning with a high pressure washer
For cleaning paving stones, special high-pressure washers are most often used, which save a lot of time and effort, and at the same time guarantee effective cleaning. Under high water pressure, you can safely remove the largest dirt. At the same time, the work is quite light, fast and basically trouble-free. For such washers, you can buy special detergents that can get rid of stubborn stains from engine oil or other unwanted liquids or paints.
Manual weed removal
Special tools for removing moss and weeds from paving stones are available in gardening stores and DIY stores, e.g. a hard brush for cleaning cracks. However, this method has disadvantages. It's hard to clean a really large area - it's not only about time, but also physical effort. If the weeds are not uprooted, they will grow back quickly. You also need to be very careful not to damage the paving stone structure - sharp tools can cause scratches and weaken the facing layer, and thus reduce the resistance of paving stones to adverse weather conditions.
Detergents
Another method will be the use of special chemicals with biocidal properties, which are sprayed on the surface covered with moss and with weeds growing in the cracks. The effectiveness is high, but these types of preparations penetrate the soil and contaminate it. What's more, if used carelessly, it is easy to damage the plants growing nearby. Detergents need to penetrate the moss or weeds well, so use them in certain weather - a sudden rain will just ruin all the effort. After a few days, the moss remains must be removed with a brush or washed with water. It's very important not to do it too early. Also, keep to the proportions. The chemicals are so strong that they could lead to unsightly discoloration of the cube. It is also better to avoid using this type of preparations if there are children or pets in the house. When spraying, it is necessary to wear protective clothing, gloves, a face mask and glasses.
How to properly impregnate paving stones and stone?
The most damaging factor for paving stones is moisture - any rain can settle on its surface and cause erosion. In addition, when moisture accumulates between the blocks, it can lead to bursting of the pavement structure. In order to maintain its structure for a long time, paving stones must be regularly impregnated and clean. Characteristics of the impregnation: Protects against water, oil and dirt Excellent ability to penetrate the substrate Quick formation of a protective effect. Reduces the tendency to dirt, prevents the formation of fungi and lichens. Increases the frost resistance of the material. Intensifies the natural color of the material. Impregnation of paving stones, terrace slabs or prefabricated elements brings only benefits. Because it protects against stains from engine oils and strengthens the color, inhibits the growth of mosses, reduces the occurrence of efflorescence.
When to impregnate paving stones?
Most often it is recommended to wait about 2 years. This is a very general recommendation and is related to the appearance of white efflorescence, which is characteristic of concrete materials. If, after laying, the paving stone does not have white deposits or they are small, impregnation can be performed immediately after laying. Impregnation will in this case protect against the possible appearance of efflorescence at a later time. If the paving stone already has efflorescence, impregnation can wait. This is a temporary phenomenon that disappears automatically over time and after two years after the efflorescence there should be no major traces.
Recommended